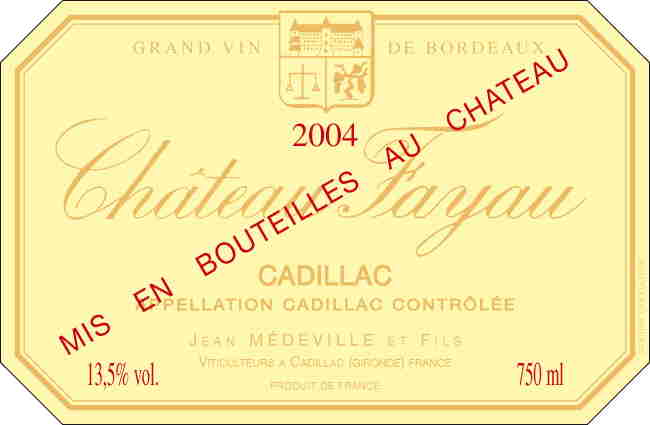 Sauternes enthusiasts have long known that across the Garonne River they can procure what is arguably the greatest value wine in sweet white Bordeaux, which in exceptional years produces a wine equal to Sauternes which may sell at two or three times its price. This bizarre anomaly is the Chateau Fayau Cadillac, and although the wine cannot be labelled Sauternes as such, it is essentially identical in every way. Like the great wines of Sauternes, Chateau Fayau depends upon the formation of a special mould, Botrytis Cinera, (Latin for 'Ashy Cluster'), and like Sauternes only hand selected botrytis effected Semillon & Sauvignon Blanc grapes are picked, which necessitates harvesting over successive weeks.
Brilliant golden color. Superb nose showing strong botrytis character. Aroma of honey, apricots and spice overlaid by super ripe peaches. The palate is still youthful and has the structure to live for many years. Over time the color will deepen, the gold will eventually turn to a golden brown and the sweet fruit will change to display flavors of toffee and caramel. At present the palate is rich and luscious, displaying a degree of viscosity that is definitely classed growth Sauternes. Rich mouth filling flavors of apricot, honey, ripe peaches and raisins fill the mouth. Outstanding length with a remarkable twist on the palate that finishes with a classic dryness and then 'powers on' with an aftertaste of honey and apricot.
The wine is an ideal accompaniment to fruit based desserts, crème caramel, lobster and butter, cheese and foie gras.
This wine can be consumed now but will reward aging for between 10 – 15 years.
Vintage: 2004
Alcohol: 13.5%
UPC #: 3429451304500