Boerewors, which means farmer sausage in Afrikaans - "boere" (farmer) "wors" (sausage). This recipe makes about 15 pounds of sausage.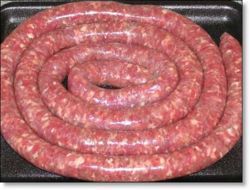 Below are the ingredients and method for making this wonderful sausage. 10 lbs Beef
2 lbs Pork
3 lbs Bacon
3 Tablespoons Herbs de Provence
4 Tablespoons Garlic Flakes
2 Tablespoons Salt
1 Tablespoons Black Pepper corns
2 Tablespoons Coriander Seeds
3 Tablespoons Pickling Spices
¾ cup red wine
Grind the meat through the medium plate of a meat grinder. Grind the herbs and spices in a spice mill. Mix the meat, red wine, herbs and spices and allow the meat to cure for 24 hours in the fridge.
Stuff medium sausage casings with the meat mixture. Package in 2 – 3lb rings. Grill over medium coals ensuring that the sausage does not get burnt by any flaring of the coals.
PAIRINGS:
For wine pairings, this will go very well with a South African Pinotage e.g. Paarl Hills Pinotage or Landskroon Pinotage, and Bush Camp Our Daily Red Blend. This will also pair well with a good South African Shiraz e.g. Hugo's Hill Shiraz as the smokiness will pair well with the grilled sausage. Enjoy!